From Verdant Experiences, we follow and apply the recommendations of various health institutions (at the end of this page you can find more information), in relation to the impact of COVID-19 that now affects not only Spain, but also the rest of the world.
For this reason, we have worked on adapting our services to prevent and minimize the risks of contagion or exposure to COVID-19. The main objective is to be able to continue offering our services, while maintaining the protection of our clients, collaborators and own personnel.
***VERY IMPORTANT***

CURRENT RESTRICTIONS IN GALICIA THAT AFFECT OUR SERVICES (Updated January 20, 2021)

Perimeter closure (cierre perimetral): entrances and exits are restricted in the affected areas (except for work, educational or health reasons).
At least until the 02/01/2021, the Community of Galicia is closed perimeter and no one will be able to enter and leave it except for justifiable reasons. There are also restrictions in certain municipalities.
Our excursions with departure or destination in affected areas are canceled until further notice. This does not affect departures from unaffected areas.
Curfew (toque de queda): restriction to any citizen to remain or circulate through the streets freely at a set time and without a justification considered valid by the competent authorities.
In Galicia the curfew is active from 22:00 to 6:00.

In this link to the RTVE page you can see all the current restrictions in Spanish territory.
VISITORS REGISTRATION

Any person, whether they live in Galicia or not, and who have been in territories with a high epidemiological incidence for the past 14 days due to covid-19, will have to provide their contact details to the Galician Health Authorities (SERGAS). Volunteer in the rest of the cases.

The notification will be made through the page https://coronavirus.sergas.gal/viaxeiros/ or by calling the phone (+34) 881 00 20 21, within 24 hours of the arrival in Galicia.
TERRITORIES THAT ARE CONSIDERED TO HAVE A HIGH EPIDEMIOLOGICAL INCIDENCE DUE TO THE COVID-19 (Updated January 05, 2021)

SPAIN: Aragón, Illes Balears, Castilla-La Mancha, Cataluña, Comunidad Valenciana, Extremadura, Madrid, Melilla and La Rioja.

EUROPEAN CONTINENT: Acerbaijan, Albania, Germany, Andorra, Armenia, Austria, Belgium, Belarus, Bosnia, Bulgaria, Cyprus, Croatia, Denmark, Slovakia, Slovenia, Estonia, France, Holland, Hungary, Italy, Kersei, Latvia, Liechtenstein, Lithuania, Luxembourg, North Macedonia, Moldova, Monaco, Montenegro, Poland, Portugal, Czech Republic, United Kingdom, Romania, Russia San Marino, Serbia, Switzerland, Sweden, Turkey, Ukraine, Georgia and Gibraltar.

AMERICAN CONTINENT: Aruba, Belize, Bermuda, Brazil, Colombia, Costa Rica, Curaçao, Ecuador, United States, Falkland Islands, Virgin Islands, O Salvador, Guatemala, Honduras, Panama, Paraguai, Puerto Rico, Venezuela, Haiti, Jamaica, Nicaragua, Dominican Republic and San Martín.
ASIAN CONTINENT: Bangladesh, India, Iran, Iraq, Israel, Kazakhstan, Kyrgyzstan, Lebanon, Oman, Palestine, Philippines, Afghanistan, Bhutan, Brunei, Cambodia, Indonesia, Laos, Mongolia, Myanmar, Nepal, Pakistan, Syria, Thailand, Yemen, Vietnam and Jordan.
OCEANIA: Guam and French Polynesia.
If you are considering booking any of our services or tours, you should take into account our COVID-19 prevention guide and the special conditions described on this page. They will apply to all our products and services, so in order to confirm any booking you must have knowledge of this page and accept the conditions described here.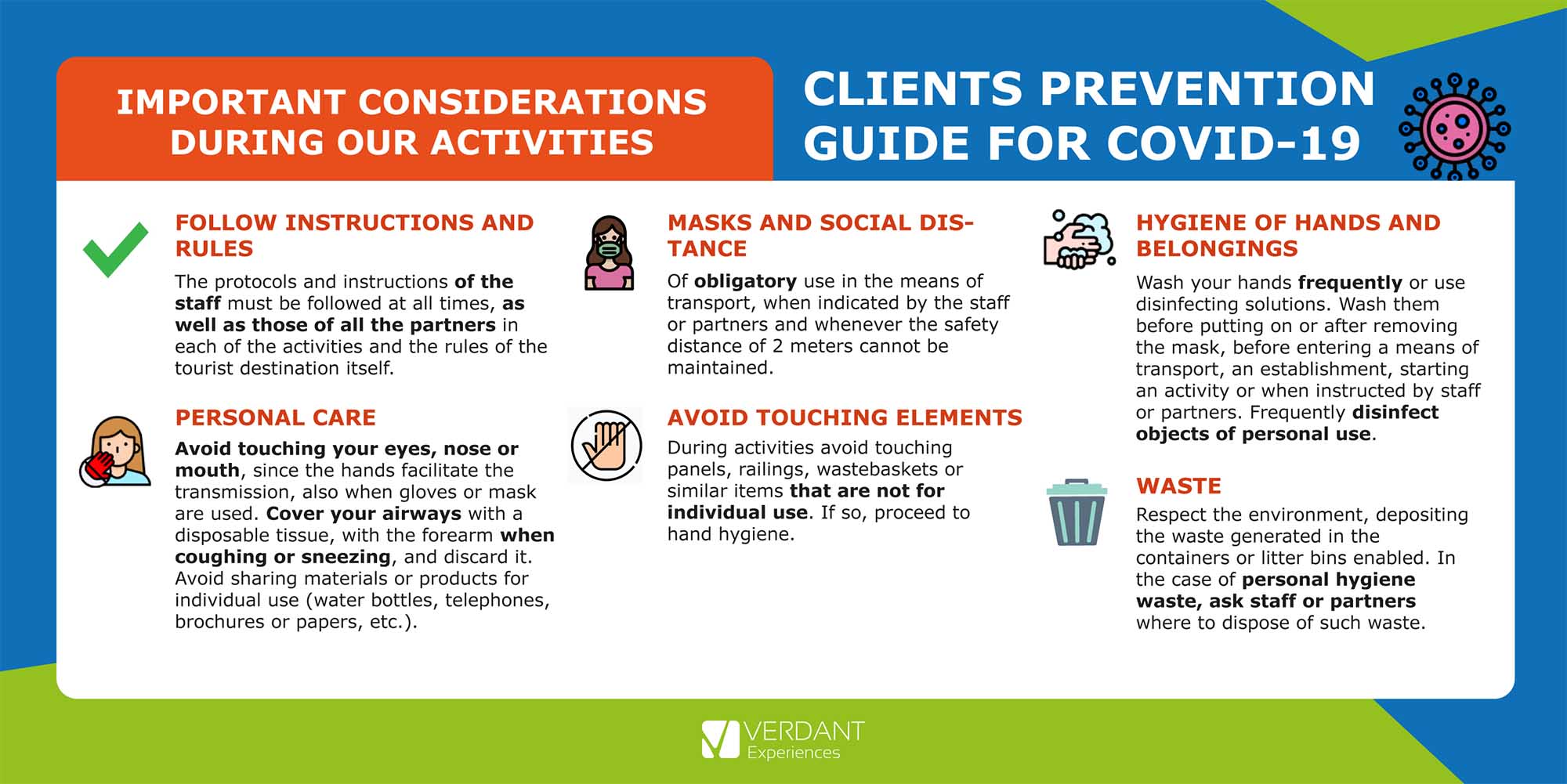 * Symptoms of COVID-19

More common: fever, dry cough and tiredness.
Less common: aches and pains, sore throat, diarrhea, conjunctivitis, headache, loss of sense of smell or taste, skin rashes, or loss of color in fingers or toes.
Serious: shortness of breath or feeling of shortness of breath, chest pain or pressure, inability to speak or move.
Group sizes (70% of transport capacity)
Following the regulations regarding transport, the group sizes will be as follows:
Private excursions. Up to 6 people if they live together, or up to 4/6 people if they do not live together for transportation in a VAN of up to 9 seats. For the rest of the cases, the transport would be a small bus fo up to a maximum of 15 people.
Group excursions. Up to 4/6 people for a VAN of up to 9 seats. For the rest of the cases, the transport would be by small bus up to a maximum of 15 people.
Cancellation Policy
Provisionally and until further notice, the following conditions or modifications are added to our current cancellation policy:
In the event that a client cannot make use of their booking due to a

situation related to COVID-19

(contagion or having been in contact with an infected person and needing to be quarantined, for other cases consult with VE). It will be canceled without any penalty as long as we are notified at least 18h before the start time of the activity. You will always be given the option to refund your booking or to change it for another date or to issue a voucher valid for 1 year (with the possibility of renewal).
In the

event of any exception to the above condition

by a partner applying cancellation fees,

you will be notified once we get your booking, in case of disagreement you can cancel it at that time without any penalty.
Compliance with Indications of Staff and Partners
The company reserves the right of admission to anyone who does not respect the indications given, and who therefore puts the group and / or the staff participating in the activity or tour at risk, not giving the right to any compensation in this case. It will be applied if necessary and after giving several notices previously.
When can our activities be booked?
It is possible to make bookings or pre-bookings for scheduled and unscheduled activities at any time for dates from July 1, 2020, although subject to possible modifications if they are affected by any anti-covid-19 measures.
In any case, if there are modifications that affect said activities already booked, and you do not agree with them, you can cancel them at no additional cost and receive full refund of the amount paid as booking.
It will be communicated through our Webs, our Social Networks and our newsletter of the restart of our activities under measures COVID-19. You will also be informed of new activities and possible changes in the conditions of our activities.
If you have any questions or queries related to COVID-19 and the impact on our activities, you can contact us through any of the communication channels that appear on our website or on our contact page.
Information related to the measures that Verdant Experiences is implementing in its services and products in relation to COVID-19.
How are we getting ready?
We have created our Own Manual for internal use, which includes all the areas and activities in which we work. This manual is based on the Applicable Manuals against COVID-19 prepared by the Xunta de Galicia (authority in Galicia) through the Superior Center of Hospitality of Galicia (Centro Superior de Hostelería de Galicia), the Galician Health Service (Sergas) and the Institute of Labor Safety and Health (Instituto de Seguridad y Salud Laboral - ISSGA), in collaboration with representatives of the tourism sector and entities such as the Institute for Spanish Tourist Quality (Instituto para la Calidad Turística Española - ICTE), the Galician Federation of Municipalities and Provinces (Federación Gallega de Municipios y Provincias - Fegamp) and specialists such as the professor of Preventive Medicine and Public Health at USC, Juan Gestal, compiling the established mandatory requirements by the Ministry of Health, the recommendations prepared by the Ministry of Industry, Commerce and Tourism and other advice adapted to the galician companies, taking into account their particularities.
Action protocols are being prepared for different processes and situations.

For our clients we have the guide that is published at the top of this page.

Contingency plans have being prepared for each of the activities and products that we offer. These plans are aimed at minimizing risks of contagion in the face of possible scenarios during the development of activities.
What security can we provide?
We must bear in mind that it is not possible to guarantee the non-existence of the virus in any place or person permanently, but we can take all possible measures to avoid and minimize the appearance of contagions while enjoying your holidays.
At Verdant Experiences we are reviewing that all collaborators have the right security measures in place, the lack of implementation of these measures it will be a reason for exclusion from our activities. In addition we have our own measures implemented within our activities and for our staff and own resources.
How can we minimize risks and avoid contagions?
Complying with the rules and recommendations given by our staff and collaborators. We must all act responsibly.
The company reserves the right of admission to anyone who does not respect the indications given, and who therefore puts the group and the personnel participating in the activity or excursion at risk.
Do you have any questions or want to know more about the measures we take?
If you have any questions or queries related to COVID-19 and the measures we implement, you can contact us through any of the communication channels that appear on our website or on our contact page.